A Guide to Different Types of Faucets for Your Home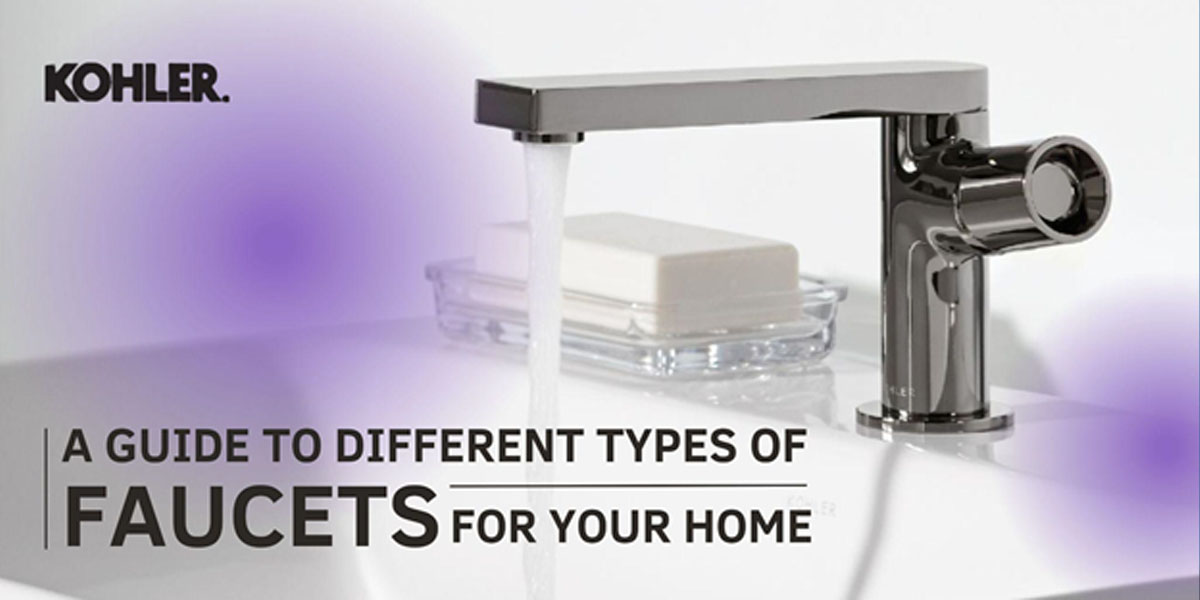 The bathroom requires an update over time. Regular usage makes your bathroom need an upgrade. Among the many bathroom accessories, faucets are the most frequently used and require a change to keep your bathroom up and running.
Bathroom faucets enhance the overall look and feel of the bathroom with various faucet styles, finishes, and designs to make your bathroom a combination of style and functionality. Moreover, you can use bathroom sink faucets to create a focal point with a bold and eye-catching design. They amplify the bathroom's look with minimal or neutral colors.
You can go for a cohesive look by coordinating sink and Shower Faucets with other fixtures such as towel bars or bathroom decor. It would be best if you were not afraid to mix and match different faucets to achieve the desired personalized look.
Furthermore, the critical thing is to use finishes to tie everything together with materials such as marble countertops or porcelain sinks. Bathroom faucets are of utmost use and help to contain germs spread. Kohler faucets come in exquisite and perfectly balanced forms with striking finishes that draw the eye and beckon the touch.
Bathroom Faucets are available in different designs and styles. The option for different types of faucets allows you to pick and choose the right pick for your bathroom to make your bathroom stand out and look a cut above the rest.
To make an informed choice, you must familiarize yourself with the available possibilities. You can combine different elements with your current sink design while giving your bathroom a fresh look.
TYPES OF FAUCETS
Bathroom faucets are available in a variety of designs and styles. To make an informed choice, you must familiarize yourself with the available possibilities. You can combine different elements with your current sink design while giving your bathroom a fresh look.
Single Hole Faucets
The name speaks for itself. The most typical and anticipated type of faucet is one with a single hole. Designers continue to reimagine it due to its simplicity and ease of installation, even though the traditional styles provide nothing new. It is ideal for use in bathrooms since the single-handle function allows users to manage water pressure and temperature concurrently.
Wall-Mounted Faucets
Wall-mounted bathroom faucets offer a chic alternative for anyone wishing to give their bathroom a more contemporary and streamlined appearance. Installation is simple, and maintenance is straightforward. These can be used as shower faucets and save space because they are wall-mounted. Also, it provides space for movement, making cleanup simple and practical.
Widespread Faucets
The refinement and modernism of a widespread Faucets are unmatched by many other faucets. This modern faucet style is among the most popular fixtures for homeowners, and designers offer an ultra-sleek focal point to their bathtub and sink. This faucet style comes with a more open mouth, which results in a smooth water flow that follows the curve of the vessel. Installation requires more care than other faucets, but the finished product speaks for itself. You can add a widespread faucet to your bathroom decor to discover a new level of beauty for a striking and charming appeal.
Vessel Faucets
Vessel bathroom faucets sit on a vanity or countertop rather than being recessed into it. They come with a tall, spout-like design that allows water to flow directly into the sink without splashing over the sides. Vessel faucets with various styles and finishes, including sleek, modern, traditional, and ornate, with popular finishes including chrome, brushed nickel, and oil-rubbed bronze.
Touchless Faucets
Motion-sensor faucets prevent turning on the water by touching them only when necessary. To improve the aesthetics and user-friendliness of your bathroom, hands-free bathroom faucets are a crucial addition.
These state-of-the-art plumbing appliances don't need handles for manual operation and can significantly improve family convenience and wellness. Also, it minimizes the spread of diseases or germs in a home with a single hand wave and makes for a hassle-free experience.
Touchless faucets that use proximity sensors make initiating and stopping the water flow simple. They have long been a popular solution for business settings and are currently a preferred choice for home installations.
Kohler faucets employ response® technology through a state-of-the-art sensor that responds in milliseconds to offer reliable touchless on/off operation. A magnetic docking system glides smoothly and securely locks the spray head into place within the spout known as DockNetik.
There are many options available nowadays for bathroom faucets made of various materials. However, occasionally they are made from substitute materials like glass, ceramics, and other composites. From bronze to stainless steel, brass is the most utilized material.
While thinking about a new faucet, selecting a style and design is also crucial. Modern and contemporary themes go nicely with faucets with bold curves and delicate outlines. The simplicity of installation must be taken into account while picking a design. The individual can do most straightforward installs; however, certain types demand professional assistance.
Final Thoughts
The best faucet demands research before purchasing. You could feel overwhelmed by the sheer range of materials, types, and finishes. You can shorten your choices and choose the best faucet with the aid of the following types. The extensive selection of top-of-the-line faucets from Kohler Faucets ensures that every day is an exceptional and luxurious experience in the bathroom.
Check out our Bathroom Accessories section on our webpage for more information.
FAQ'S
Before buying a faucet, what do I need to know?
To make a perfect choice, you must acquaint yourself with different types of faucets, finishes, styles, materials and overall combinations with the bathroom decor.
In what way does a faucet serve a purpose?
A faucet is controlling the water flow from a pipe connected to the water tank. They help to ensure that individuals' bathing and grooming needs are met.
What is the standard size of bathroom faucets?
Most faucet centers fall between 4 and 16 inches, with center-set faucets commonly measuring 4 inches and broad faucets typically 6 to 8 inches.
What is the most durable faucet?
Kohler offers a range of durable faucets. They combine style with functionality to provide the best-in-class products.