Modern Ideas for a Modern Kitchen
Kohler kitchens are constantly inspired by modern designs and inspirations taken from all across the world. Every faucet and fixture is specially curated with advanced technology and contemporary designs that bring out the kitchen space's best. As a kitchen glues the whole home together, the heart of the house must be designed and built with good quality products, and Kohler takes care of this idea effortlessly.
Every Kohler kitchen sink and faucets are made with advanced technology, modern kitchen sink design, and an excellent material that provides long-lasting life to the sinks and faucets. With a wide range of kitchen sinks and taps available in different colors, materials, and finishes, one can get the most suitable kitchen sink and faucets that fit in quickly.
Here are the kitchen faucets & sinks that will fit in very well and enhance the efficiency of your kitchen-
1. Graze
A touchless kitchen sink faucet that is highly sanitary and hygienic. Install this faucet for a neat and clean kitchen
K-22068-CP/BL/2MB | 5.7 lpm
273 x 452 mm, Reach 273 mm, Height 243 mm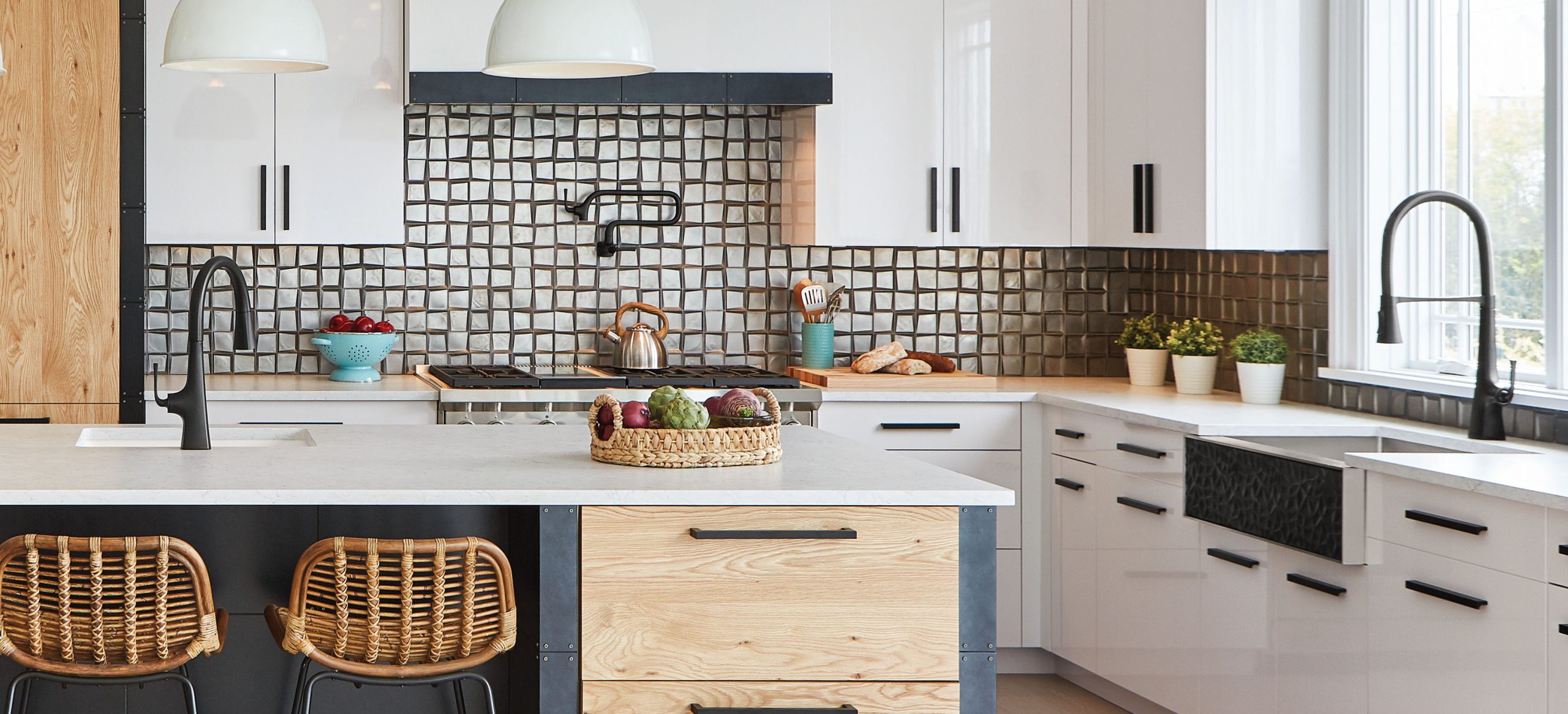 2. Crue
Designed with minimalist style, Crue is a pull-down single-handle kitchen faucet that fits perfectly well in every kitchen
K-22972-CP/BL/2MB | 5.7 lpm
217 x 437 mm, Reach 217 mm, Height 208 mm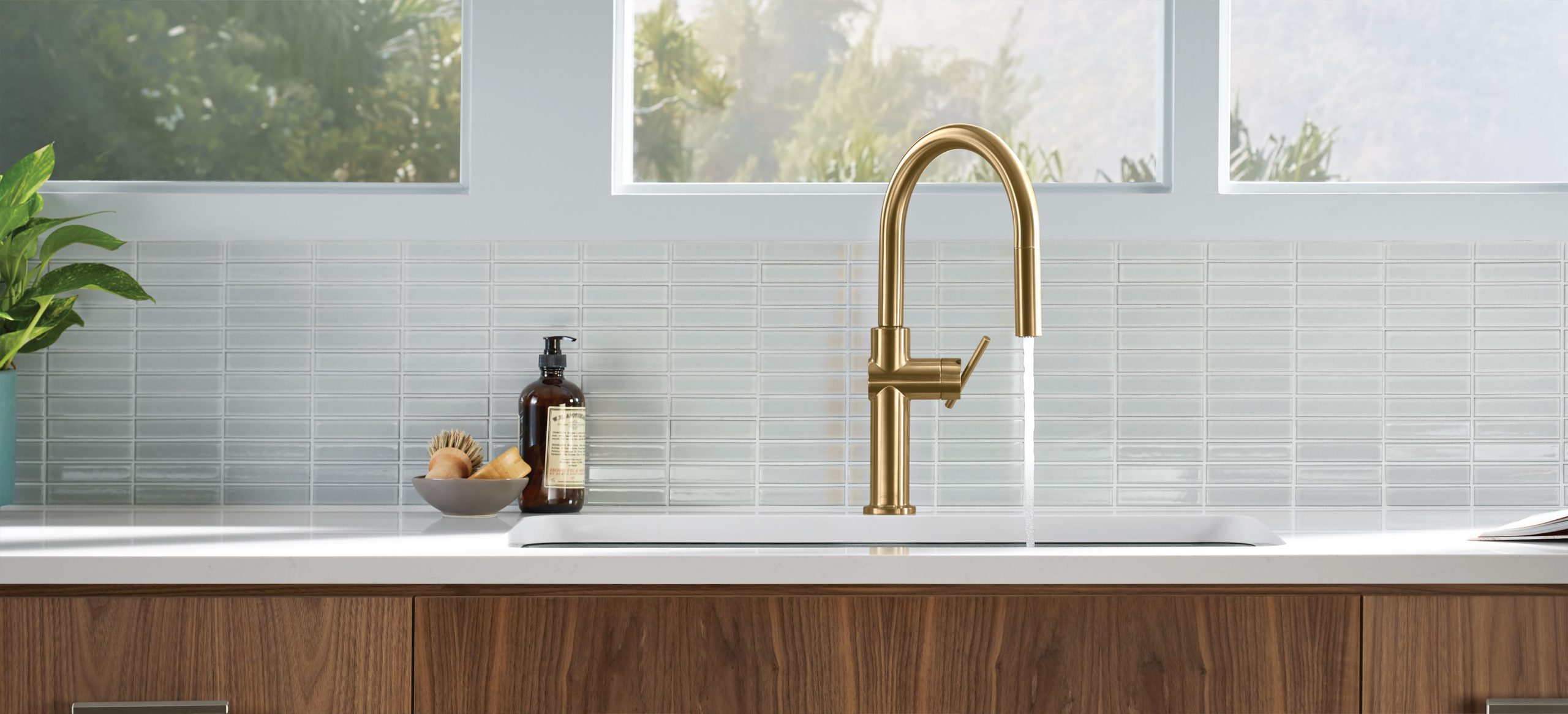 3. Simplice
Simplice has the word simple in it, ensuring operation simplicity in every kitchen. It is a sleek pull-down kitchen faucet
K-596T-4E-CP/BL | 5.7 lpm
229 x 422 mm, Reach 229 mm, Height 224 mm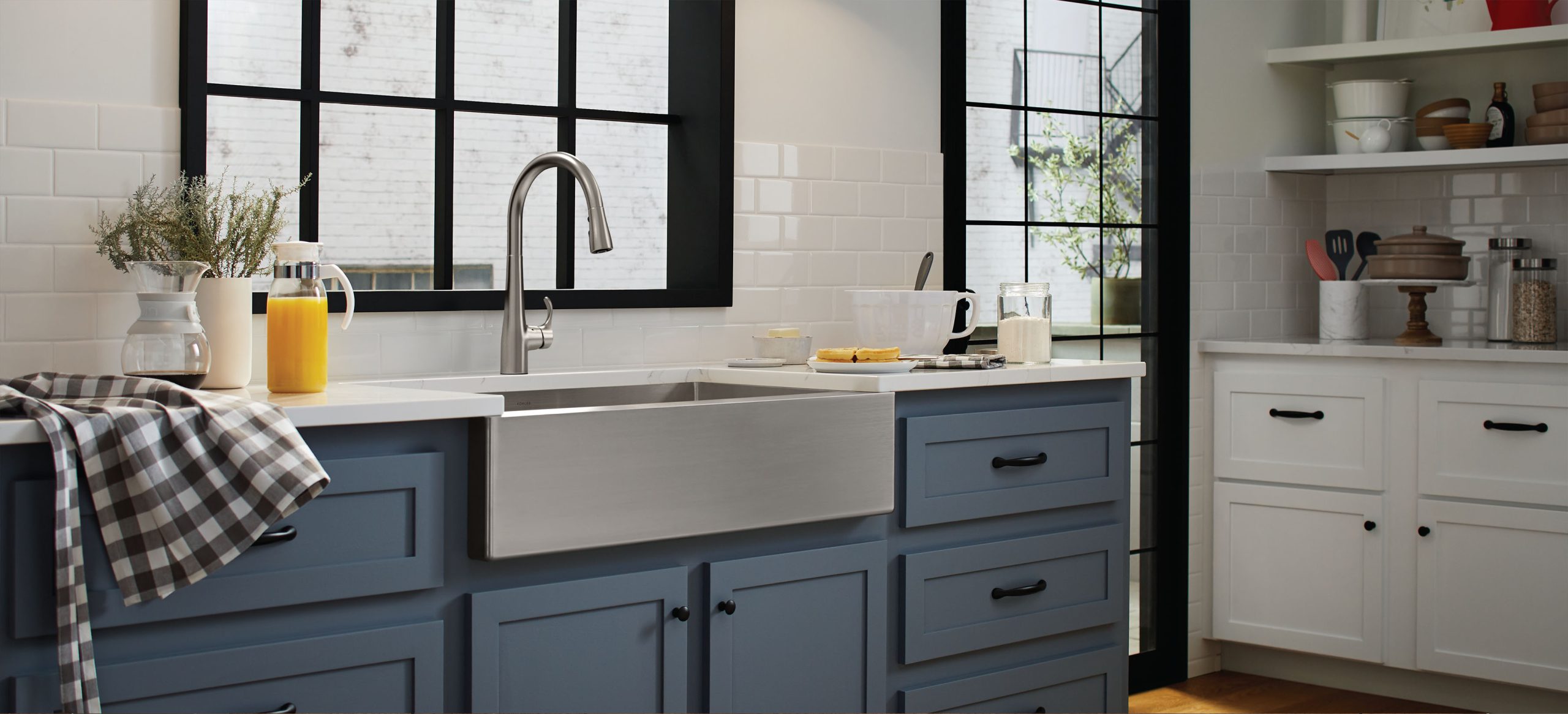 4. Purist
Available in modern designs and classic colors, the Purist collection consists of flat handle faucets that look different from the usual faucets.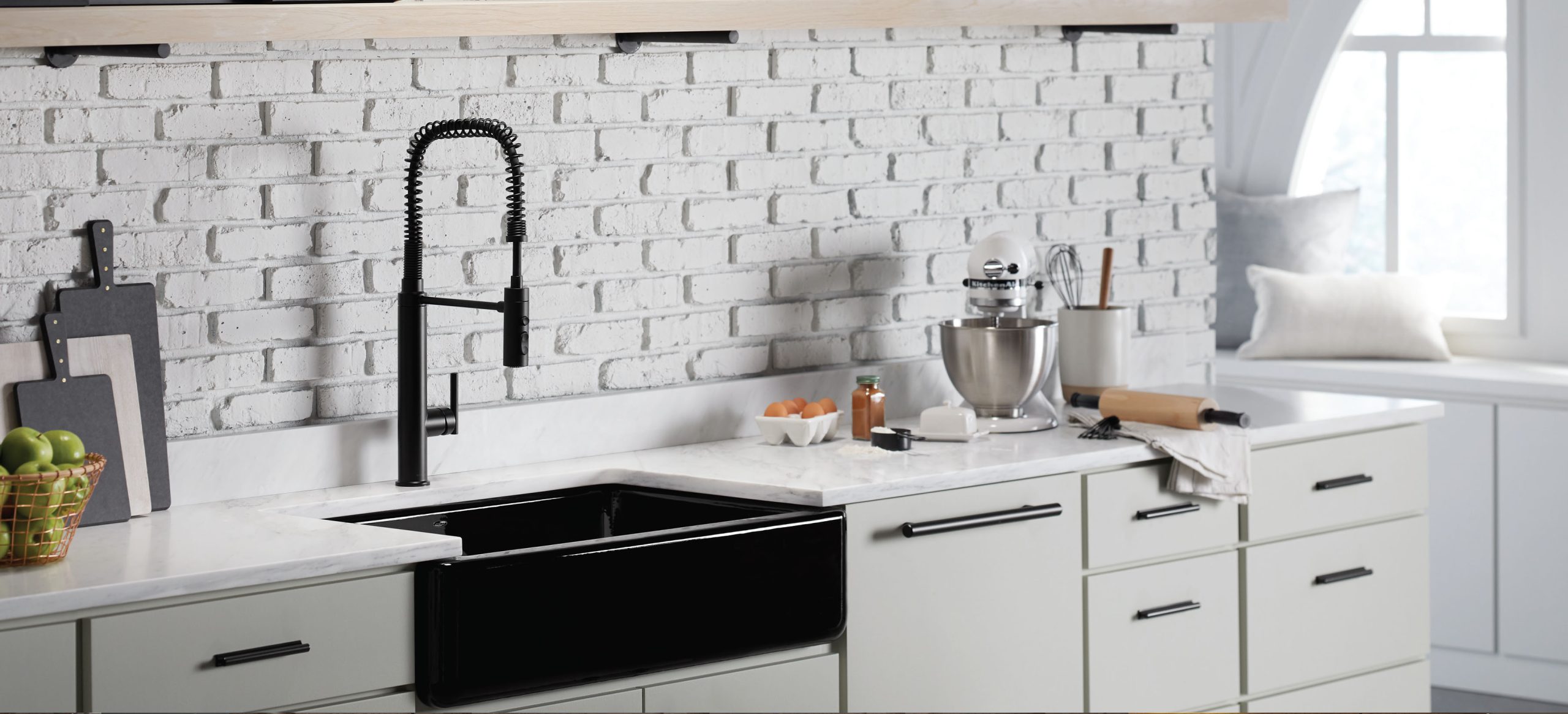 5. Tone
The tone is a basic and primary pull-down kitchen faucet that goes well with every color combination and does not compromise the kitchen's functions.
K-23764-CP/BL/2MB/BMB | 5.7 lpm
198 x 437 mm, Reach 198 mm, Height 191 mm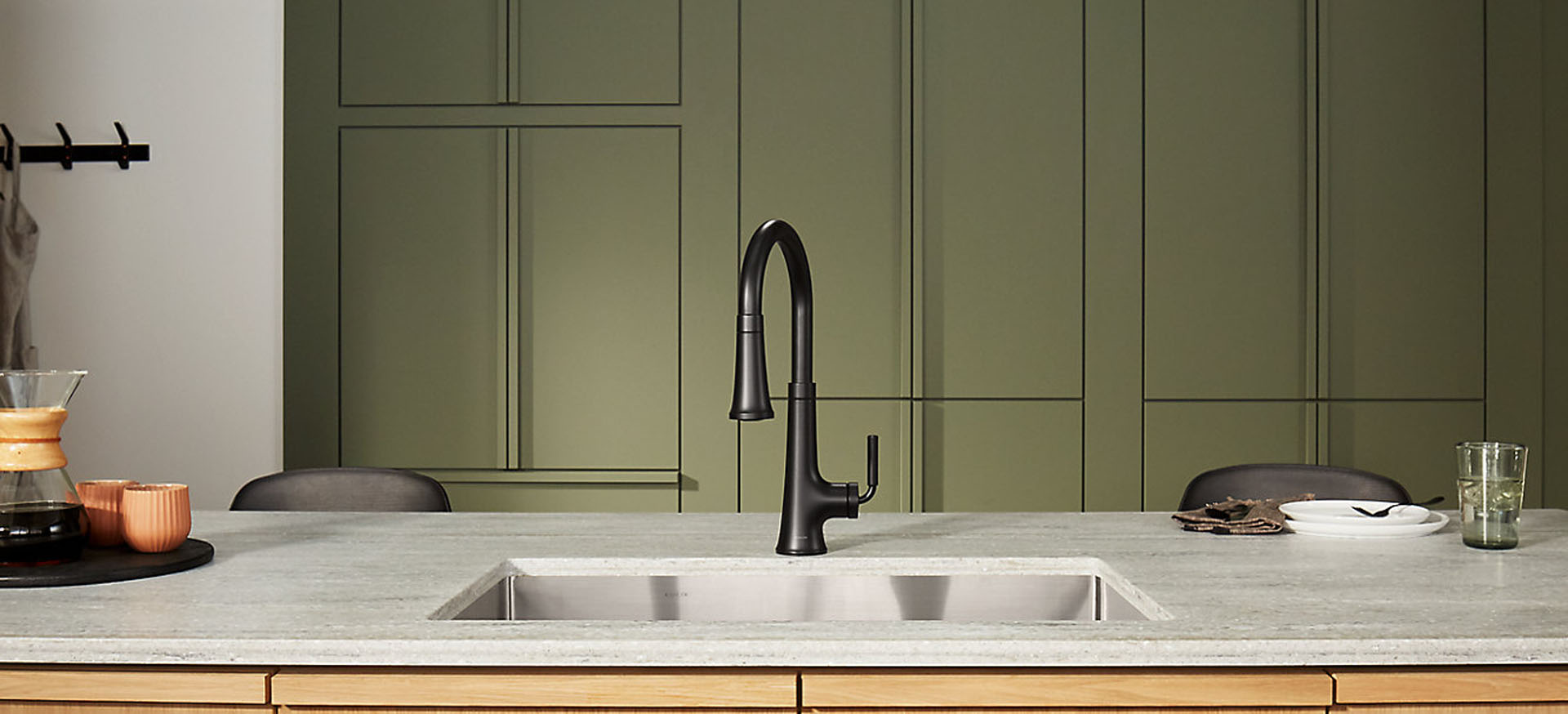 6. Sensate
A modern faucet installed with touchless functions, a pull-down spout, and a docknetik magnetic docking system for the betterment of your kitchen
K-72218T-B7-CP | 5.7 lpm
214 x 394 mm, Reach 214 mm, Height 243 mm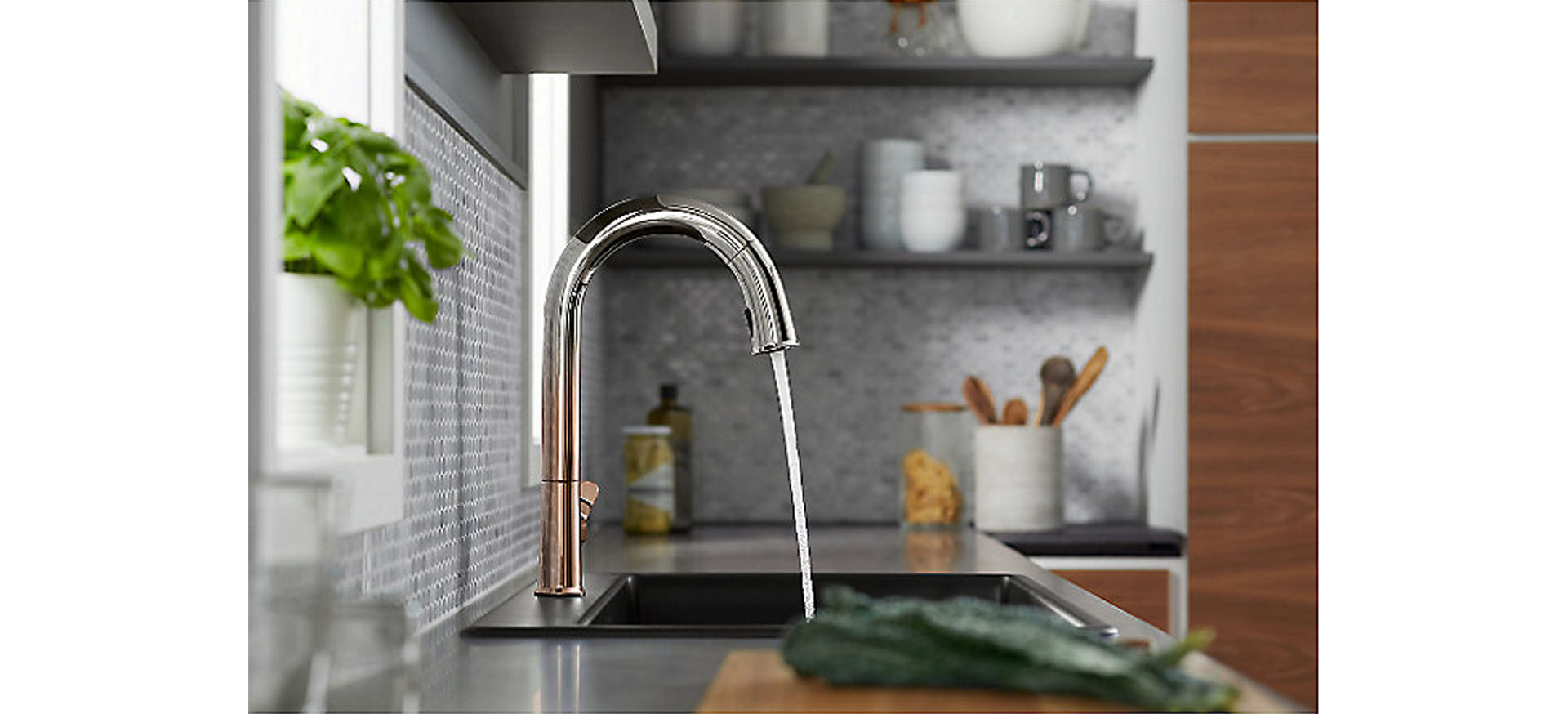 7. Malleco
Another touchless kitchen faucet ideal for improving the sanitary condition of your kitchen
K-77748T-4E2-CP | 4.5 lpm
230 x 388 mm, Reach 230 mm, Height 239 mm
8. Pot Fillers
A HiRISE kitchen artifact to improve the functionality of every kitchen sink.
Apart from these kitchen faucets, one thing necessary for a kitchen to be fully functional is the kitchen sink. Kohler has different kitchen sinks in various sizes, materials, and colors. Take a look at one of the best in the collection-
9. Cairn
A Series of undermount neoroc basins built with unique designs, bound to improve the process
10. Whitehaven Hayridge
Whitehaven Hayridge is an Undermount Double bowl farmhouse sink that brings depth and distinctiveness to the kitchen along with its efficient usage
11. Poise
Apt for the long-lasting health of the kitchen, Poise is a series of single bowl stainless steel basins made to fit in every kitchen.
12. Strive
Available in a Double bowl and single bowl basin, made with stainless steel for every comfort and need
13. Undertone
Undertone is an undermount sink bar perfect for little kitchens that do not take much space but function very well.
14. Prologue
As the name suggests, the Prologue collection takes inspiration from artistic designs. It is self-rimming, available in single basins, and makes an undermount small kitchen sink.
15. Malleco
The Malleco kitchen sink is a self-rimming, single basin and an undermount large kitchen sink. It sits well with bold designs and makes no compromise in functionality.
16. 8-Degree
Appropriate for big kitchens, 8 degrees is a kitchen sink with a large and medium double bowl. Built with undermount stainless steel material and has a timeless appearance.
17. Aleo
Aleo is a classic stainless steel kitchen sink in large/ medium undermount and self-rimming designs that can be installed with minimum effort.
Sleek and smart, Ming Mirror is an ode to timeless perfection. Equipped with a proximity sensor, a defogger and brightness adjustment features, this mirror is all that you'll ever need. Explore Kohler in Bangladesh for the best varieties of Mirror.